Exide Classic OPzs with tubular plates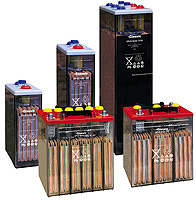 Free ventilated lead battery
Life expectancy +12 years
Stationary battery with tubular plates. Excellent standby and cycling behavior-long life. Completely recyclable.
Very high operational reliability under rough operation condition. Low maintainance due to optimised alloy and large electrolyt reserve.
Up to 20 years design life at 20 degrees ambient temperature.
High reliability for critical applications!
12V 1 OpzS 50 LA  exide-classic-12v-1-opzs-50-la
12V 2 OpzS 100 LA  exide-classic-12v-2-opzs-100-la
If you need any other size, please contact us!
Showing all 2 results