Solar Power
An easy way to produce your own electricity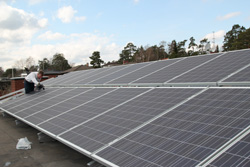 The most effective solar application is to connect solar panels to the grid through an inverter so called grid connected systems.
This type of system works like a miniature power plant. When the solar energy production is higher then the internal consumption, the excess electricity goes into the public grid. The need of batteries are eliminated.
The power companies pays the producer for this excess electricity. Stand-alone system send the produced energy directly to consumers through the inverter without connection to the public grid. It is possible to connect batteries to the application to supply the load when the production is low from the supplying sources.
Use your roof facing south to a solar power system, very effective on e.g. flat roofs on commercial buildings.
The energy production runs completely for itself; it starts up automatically when the sun rise in the morning and turns off when the sun set. As an exemple, the energy production in May starts at 6.30AM and turns off at 21.00PM.

Servicepoolen i Stockholm design and install systems from 10kW up to MW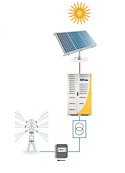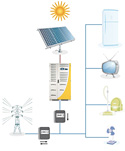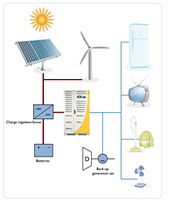 We also sell separate components such as panels, inverters and circuit breakers with fuses from 2kW, with are approved for 1000V DC.
The inverter is mainly for three types of applications which converts solar and wind energy to AC 400/230V voltage:
– systems connected to grid
– stand-alone systems
– hybrid system
Hybrid system produce electricity by using multiple sources alternately: wind, power generators, solarcells,batteries. In this case, the "Soleil" inverter can be used as an energy distribution system by monitoring multiple sources to ensure an uninterrupted and independent function.
The "Soleil" inverter is a dynamic converter for all types of systems and operate with maximum reliability and the safety required. It´s also constantly monitoring the system and continuosly check the parameter for a correct operation.

SOLEIL 10TL – three-phase, 10 KW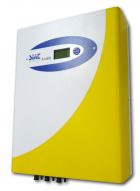 Light, compact and with an appealing design, the latest from SIAC is an inverter for network connection of photovoltaic plants characterised by its simplicity of installation and use.
The absence of a transformer reduces power loss and optimises yield, reducing dimensions, weight and moving parts subject to mechanical wear for utmost reliability over time and conversion efficiency up to 96.5%, the highest value in its category.
SOLEIL – single-phase, 1,5-6 KW

The innovative techniques and the high quality components utilized in the design of the Soleil solar inverters family guarantee the achievement of an outstanding level of reliability (MTBF > 100.000hrs).
SOLEIL – three-phase, 10-500 KW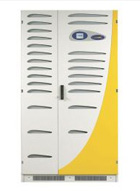 Three-phase Soleil solar inverter is available ranging from 10 to 500 kWp for Grid-connected or stand-alone applications.
Showing all 3 results