Saft NiCd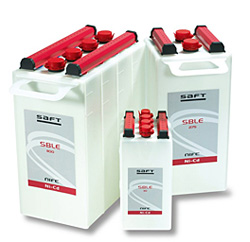 Saft SBLE, SBM and SBH NiCd-batteries are designed for a broad variation of applications such as power supply, start batteries for genset and solar cell appiances.
SBLE blocks from 7,5 Ah to 1660 Ah for standby power over relatively low discharge time.
SBM blocks from 11 Ah to 1390 Ah for a backup time between 30 minutes and 3 hours.
SBH blocks from 8,3 Ah to 920 Ah for high powers over short time and as start battery for genset.
Delivery time 5-6 weeks.
See SAFT products here: saft-ni-cd-sbl-sbm-sbh
Showing the single result